Summer is now in full swing and between the weeding, watering and harvesting it can be difficult to step back and see the bigger picture.  These aerial photographs taken recently, made us stop and think of what we had achieved, the challenges we'd faced and just how far we've come in the 8 months since we embarked on growing the Real Food Garden.
This time last year we were preparing to hand in our notices, drawing up cropping plans, drafting business plans and getting ready to come home. We'd been away from Cornwall for nearly two years, developing our ideas, formulating our plans and building up a wealth of experience from market gardens around the south west. We knew we wanted to grow local food, for local people in an innovative, sustainable and resilient way and we wanted to embed ourselves in our community.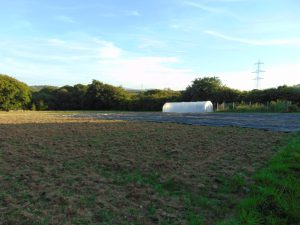 We returned to Trelowarth, now home to the Real Food Garden, in November last year. We quickly set about making our no dig beds and erecting our polytunnels according to plan. The weather was initially on our side and we were in shorts in November! But the Cornish winter soon set in, with 80mph winds and persistent drizzle.  Bouts of heavy rain filled up our paths between our beds leading us to re-orientate the beds to the south of the field to help with drainage, the first of many learning curves! We have now made over 60 permanent beds in the garden that will never again be tilled or rotivated. Once the beds were made we embarked on the mammoth task dressing each one with a thick layer of compost using just our shovels and wheelbarrows….30 tons of compost later and we are still going!
With most of the beds prepped and composted it was time to get on with the fun job of sowing and planting. We have a carefully crafted cropping plan which sets when and what to sow every week of each month. The tomatoes were among the first, sown and popped on a heated bench in early February. These were followed by spinach, chard and salad brassicas in February and by March we were in full swing, with the propagation tunnel filling up trays of seedlings, meanwhile potatoes, onions and garlic were coming on outside.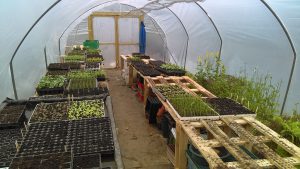 April bought one of biggest challenges by far. It was dry, sunny month and we only saw rain on the first and the last day of the month. Whilst we have a borehole on site, sprinklers are no substitute for proper April showers and we worked tirelessly to give our young crops all the water they needed. Inevitably there we some casualties but our continuous watering meant most of the garden survived this unusual spring weather. Meanwhile we begun reaping our first harvests, supplying to the lovely ladies of the Withiel yoga club and a number of restaurants in Wadebridge. Our fresh, seasonal salad mix was going down a storm, we had people popping into the garden to see what it was all about and preregistering for veg boxes!
As we moved into May the garden was filling up quickly and the weather was a little more favourable. Our innovative growing techniques coupled with the dry April, had reduced the slug burden but unfortunately couldn't protect us against the wire worm. As described in our beetle blog, these little worms eat the roots of crops and have caused quite a bit damage among our peas and beans. Luckily most of the other areas of the garden appeared wire worm free and by late May we had a wonderful variety of crops coming on nicely.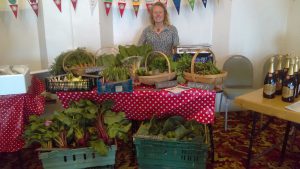 June bought more dry weather and more watering challenges, with the highest temperatures recorded since the summer of 1976! This meant long days of harvesting early and watering late into the evening. But there were more achievements too! We started our long awaited veg box scheme, providing fresh, chemical free, nutrient dense veggies to our lovely local customers – delivering local food to our local community. We also opened our gate for the biannual Withiel Garden Safari and spent a lovely afternoon showing people around the Real Food Garden, sharing our love of local produce, resilient communities and sustainable farming. We also attended our first farmer's market at Whitecross and begun supplying more restaurants in Lostwithiel. In the garden we were busy weeding and planting out our courgettes and squash as well as sowing for winter….yes winter!
As we move in July we are beginning to harvest the first tomatoes and cucumbers and looking forward to fennel and celery. If we've learnt anything from the last 8 months it's that there will be more challenges and achievements ahead, but we continue to learn and grow, with the support of our lovely customers and wider community and we are excited to see what lies ahead…