Fresh green leaves in mid-winter have long been highly valued in this part of the world. We are not so different from our ancestors thousands of years ago who would have savoured any young shoots of nettles or ramsons during winter. But let's admit, we are very grateful that we aren't limited to nettles all winter!  Our winter salad bags contain up to 7 different varieties of lettuce, 8 different oriental brassicas (the spicy leaves), watercress, miners lettuce, chicory, raddichio and Red Russian kale. So we thought we'd introduce you to our favourites.
First up meet FRECKLES . Freckles is a stunning lettuce with a full body, good texture and ability to stand winter temperatures. Along with its comrades RED SAILS and CANTARIX they bring red pigments to your salad. These help bring you beta carotene, essential for healthy skin, strong vision and immune system. Our different lettuces have different textures and bring a mild, buttery element to the salad bags.
Next up we bring you the chicories. We like CHICORY ROSSA DI TREVISO partly because Amelia is sure that with a name Treviso it must be Cornish! But mostly because it has fantastic texture and health benefits. It's a little bitter and that signifies its strong abilities as a tonic, it is diuretic helping you remove toxins from the body. It contains Inulin which is probiotic, improving digestion but also reduces bad cholesterol in the body. It has been found to help with arthritis due to its anti-inflammatory properties. Yes get that chicory and radicchio down you!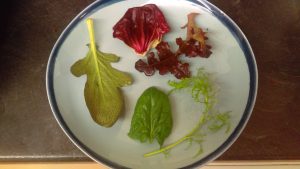 In contrast to the thick, crunch chicories we'd like to present the ORIENTAL BRASSICAS. RED MIZUNA, SCARLET FRILLS, PIZZO and OSAKA PURPLE are amongst the spicy leaves that thrive at this time of year. They don't mind the low temperatures or short days like most veggies and bring so much freshness, colour and texture to the table. We only grow the milder ones but would invite you to do a blind taste test to really appreciate the difference between the different leaves.
Saving the best to last we bring you WATERCRESS! We love this old staple. The Romans fed it to their soldiers, it filled the sandwiches of working class heroes for years and is now being understood to be a superfood. The flavour alone recommends it, but when you see its long list of health benefits it'll be the apple of your eye. Watercress's super powers can be explained by its high concentration of vitamins, minerals and antioxidant phytochemicals.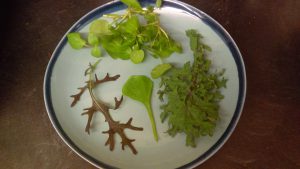 Watercress contains more vitamin C than an orange, more calcium than milk, more iron than spinach and more folate than bananas! So its helps prevent osteoporosis, anaemia, depression (linked with folate) and has been shown to be effective against the onset of certain cancers as well as in treating cancers. What more could you want! Its thought that the phytochemicals which bring these benefits give watercress and the salad brassicas their bitter flavour, another reason to love the bitter!
So feel justified in boasting about your Real Food Garden salad, yes it's got flavour, texture and beauty but it also definitely pulls its weight in keeping you healthy!